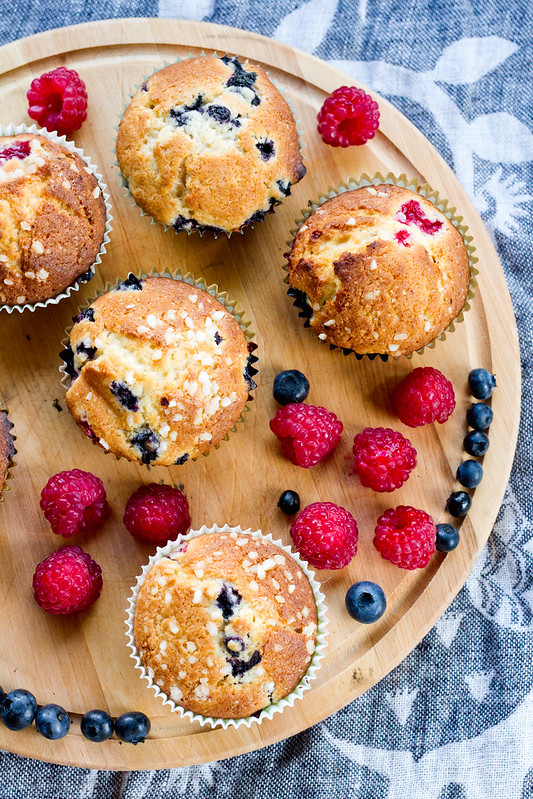 For some reason, our northern neighbours, the Finns, call dishes containing raspberries and blueberries (well, actually bilberries)
kuningatar
-this and
kuningatar
-that, the prefix
kuningatar
- meaning the queen. I'm yet to conduct research why this is so (any Finnish readers out there who know?
Ritva
, perhaps?), but here are some delicious summer muffins containing blueberries and raspberries - and would hence be called
kuningatarmuffinsit
or "queen's muffins" in Finland :)
I call them simply:
Summer Berry Muffins
(Kuningannamuffinid)
Yields 12 regular muffins
100 g butter, at room temperature
125 g caster sugar
2 tsp vanilla sugar
2 eggs (L)
50-100 ml (about 4-7 Tbsp) milk, buttermilk or kefir
120 g all-purpose flour or fine white spelt flour
60 g wholemeal flour
1.5 tsp baking powder
200 g blueberries and raspberries
pearl sugar (optional)
Cream the butter and sugars until white and soft (I use the paddle attachment of my standing mixer). Add the eggs, one at a time, and whisking thoroughly after adding each egg. Pour in the milk.
Mix the dry ingredients (flours and baking powder), fold into the egg, butter and sugar mixture.
Finally, gently fold in the berries.
Line the muffin pan with paper muffin liners, then divide the muffin mixture into the muffin cups. Sprinkle with pearl sugar, if you feel like.
Bake at pre-heated 200 C (390 F) for 15-20 minutes, until the muffins have risen and are lovely golden brown.
Let cool a little and serve.
These are best on the day they are baked. Here's a sneak peek to the inside of the muffin: my instagram muffin-pic.