Our little family of five spent three weeks exploring the beautiful Island of the Gods aka Bali earlier this year. We began our family vacation in
Jimbaran
, then stayed in the quaint artists' village of
Penestanan
just outside
Ubud
, then explored Northern Bali from
Dencarik
on
Lovina
beach and ended our holiday with a short stay in
Canggu
on the West coast again. Although the kids - then 3, 5 and 7 - were the one setting the pace and nature of our vacation, we did cram in quite a few food-related activities as well.
Visiting the famous fish market in Jimbaran was one of them.
We relied on local taxis to get around on Bali, as the local traffic was somewhat intimidating to a Northern European like me. So I'm unable to give you exact instructions re: how to get to the market - just ask your cab driver. But do get there early - the market opens around dawn at 6 am - for the best selection of fish and liveliest action, even if you are there just for window-shopping.
Traditional fish baskets drying in the sun: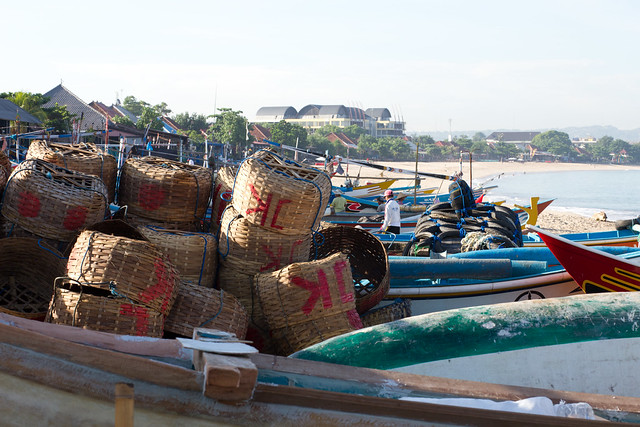 Balinese
jukung
, below, is a small wooden outrigger canoe, and they are always very colourful and highly decorated. These are traditional fishing boats on the island, though modern uses include transporting scuba-divers and whale-spotters as well :)
One of the many fish restaurants at the market:
While we did manage to identify all the fruit we ate while on the island and put an English and an Estonian name to all of them (
post coming soon
), we quickly gave up any hope of identifying the seafood. Just look at the selection - the colours are like I've only seen in a goldfish tank, not at your local fishmonger.
Although a lot of the trading takes place outside, just next to the incoming fishing boats, there is a large covered area, which is packed with vendors. There's no room to swing a cat in there - or "
Kilud karbis
," we'd say in Estonian - but there were plenty of transactions taking place. Unfortunately it was way too dark to take proper photos, and the kids felt somewhat uneasy in there - the noise, the smells, the sheer amount of funky-coloured fish and a number of people can seem intimidating when you're just three or five, I imagine :)
Have you been to Bali? Did you have a chance to enjoy some local seafood?